---
The Trictrac Home Page

by David Levy
updated July 20, 2011
Copyright © 1998-2011 by David Levy. All rights reserved.
---
Welcome to the Trictrac Home Page! This is my slow, ongoing attempt, to explore the game of Trictrac and share my exploration.
Contents
BREAKING NEWS as of July 9 2003!
I have just released version 0.3 of Soumille, The First Trictrac Program. A screen shot appears below.

If you would liked to be contacted when there is a general release available, please email me.

Please see a draft of the User Guide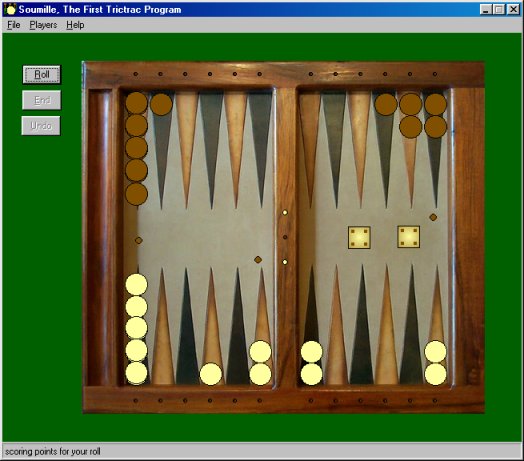 BREAKING NEWS as of November 14, 2002!
I have just created a Yahoo discussion group for those of us interested in the game of trictrac. If you are interested, click here and click on "Join This Group" in the upper right hand corner. You will need a Yahoo id.
My Interest in Trictrac
Trictrac is a rich, formal game that was immensely popular in French society prior to the revolution. The game was so closely associated with the courts of Louis XIV, Louis XV and Louis XVI that during the revolution, most Trictrac boards were destroyed as symbols of the monarchy.
I collect books on card and boards games, but resisted books on Trictrac for a long time. They are in old French and I never expected to be able to read them. One day, I ran across an exquisitely bound but affordable copy of Soumille's Le Grand Trictrac (1756). It contains 270 woodblock prints of Trictrac positions showing the course of play, move by move. With the help of my high school French and a Larousse dictionary, I was able to make some sense out of the game. I have been collecting Trictrac books ever since.
I have transcribed the first game in Soumille along with diagrams and descriptions which should give you a good introduction to the game.
Works in English
Many modern backgammon books refer to Trictrac only as the French name for backgammon. As these pages show, true Trictrac is a different game and I am aware of only works in English that discuss it:
These pages are my attempt to fill that void. If you run across others, please email me.
Disclaimer
My understanding of Trictrac is limited by my unpracticed high school French. With the exception of Fiske's Chess in Iceland, I have written more in English about Trictrac than has been written in the previous three hundred years! I am inconsistent about using the (delightful) French vocabulary and translating (awkwardly) into English. I sincerely hope that I am not butchering either the game or the language. Please let me know if you have suggestions.
What's New?
November 14, 2002: Added information about the new Yahoo discussion group I created for Trictrac.
February 26, 2000: I updated the bibliography with photographs of books from my collection.
July 30, 1998: I wrote an essay based on Montmort's Essay D'Analyse sur Les Jeux de Hazard. Montmort was a pioneer in the study of probability and had some Trictrac examples in his book.
June 7, 1998: At long last I have published the rules for Trictrac. I have added a section to the bibliography for anthologies which have material on Trictrac.
May 10, 1998: I have transcribed an annotated game of Trictrac from Soumille's Grand Trictrac.
April 26, 1998: I have updated my Trictrac bibliography based on useful feedback from readers.
---